Poll results and new poll
Hello Mr Adriaanse and fellow Adriaanse fans. This were the results for the first poll on this site: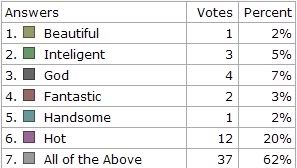 As you can all see, with a spanking 62%, All of the Above won the poll. I couldn't agree more with the outcome of this poll.
There's a new poll on the site now. "How long should Co coach Porto?" is the new theme. Please vote and leave your comments on the news posts.

On a side note, rumours have it that Co Adriaanse ran the 100 meters in 7,5 seconds on the past monday Porto's training session.